Frost/Nixon
opened at the
Caldwell Theatre
last week, and while the reviews aren't out yet, some news stories about the real men - and the play - can be found on the internet.
It's no accident;
a film based on the play
is now in theaters. Predictably, the movie hype is what's driving the interest the interviews and the people behind them.
While I have not doubt that it's an excellent film, no film ever made has ever exceeded the excitment and immediacy of seeing the stage play. There's a magic that celluloid - or electrons - can't quite capture.
But these stories serve the purpose of promoting the play as readily as the movie.
Hap Erstein interviewed James Reston, Jr. for the
Palm Beach ArtsPaper
. Reston was an assistant to the Secretary of the Interior during the Johnson Adminstration. He later became a journalist, and the author of thirteen books, including
The Conviction of Richard Nixon
, Reston's account of the famous interviews. It became the basis for the play, and later the film based on the play.
Erstein:

What would you say to young people who may not think that these events of 30 years ago relate to them?



Reston:


That really makes me kind of angry, because its so important for us to remember how horrendous Nixon's crimes were and what their relevancy is to all future presidencies.

It's a great interview. It not only discusses Reston's part in cornering Nixon, Hap also gets Reston to contrast Nixon with George W. Bush.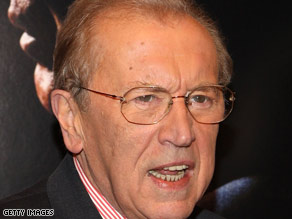 CNN spoke with
David Frost about the 1977 interviews.
"By halfway through the second day [of the interviews], we had got to the point that we had hoped to get to," he said. "And then it was a point of going further and trying to get more than we had really expected."

"There is 10 percent of fiction in the film, which no doubt improves the film. But what they got, they got ... absolutely right."


Frost reveals that Nixon, a master politician, had never mastered the art of small talk. And he is delighted that the upcoming film generated such an interest in the original interviews that they've been released on DVD.
The CNN story has video of Frost, and a link to a 1977 Time Magazine article about the interviews.
This is not the first time the interviews have been mentioned on the Theatre Scene.
Last year's piece
on
Martha Mitchell Calling
mentions the interview, and a clip from the interview is the final moment of that show:
"If it hadn't been for Martha Mitchell, there'd have been no Watergate."

Whether or not you see the movie, do not miss the stage play. The difference in the experience will astonish you. And it's as topical as it ever was, given the proclivities of the outgoing Republican adminstration.