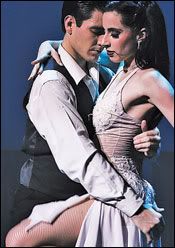 The Drama Queen
mentions that
Tanguera - The Tango Musical
is opening at the
Broward Center for the Performing Arts
after playing to "mixed reviews" in New York.
But the Theatre Scene brings you links to those reviews - and while it looks like those poster quotes, we really are just quoting the actual first line of each review. Honestly. Click the hyperlink to read the entire review.
TheatreMania
:
Anyone who loves dance must get themselves immediately over to City Center to see

Tanguera

, which features the most sensational dancing you'll likely see this year on or off Broadway.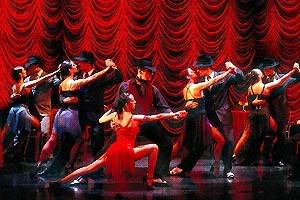 The New York Post
:
There are far worse ways to spend 90 minutes than watching good-looking, well-dressed couples slink around a stage.

Backstage
:
Billed as a tango musical, "Tanguera" is clearly a show for Broadway audiences. Unlike most of the tango revues and ballroom-dance spectaculars that have played the Great White Way recently, "Tanguera" feels more like a Broadway musical than a dance concert or plotless extravaganza.

Variety
:
Although nominally a musical, "Tanguera," the dance spectacle briefly on display (through Oct. 18) at City Center, is more a showcase of all that thrills and excites about expert tango dancing -- leggy women in fringed dresses, muscled men with hawk faces, the intoxicating rhythms, the seductive music, the rough sex, and oh, yes, the percussive dance steps that flash by your dazzled eyes like bullets.

Philly Metro
:
If you're a tango aficionado or a fan of knife fights, you might love Mora Godoy's "Tanguera."

Yeah, some mixed bag.
Something you should be aware of - this is the
same production
that played New York. They didn't do the show, and then decide to put together the tour.
Tanguera, the Tango Musical
plays through Sunday, October 25, 2009 at the
Broward Center for the Performing Arts
.